Laser Engraving Minnesota
RiteWay Laser Engraving, LLC
Quality engraving for plaques, awards, and more
Celebrate. Honor. Remember.
Located just west of the Twin Cities metro area, RiteWay Laser Engraving provides professionally engraved awards, plaques, trophies, pens, pencils, and more. Whether you're celebrating a sport team's victory or honoring a 50th wedding anniversary, we can give your special occasion an extra-special touch.
Contact RiteWay Laser Engraving today at (320) 395 - 0142, and receive 10 percent off your first order.
Top technology
At RiteWay Laser Engraving (located about 25 miles east of Hutchinson), laser engraving and laser cutting are our specialties.
Using precise laser technology, we're able to personalize plaques, ID tags, medals, trophies, and much more. Contact RiteWay Laser Engraving today, and let us put our laser engraving skills to work for you.
Fast and friendly
RiteWay Laser Engraving (located near Lester Prairie, between Glencoe and Howard Lake) is the place to purchase professional, affordable engraving in the Minnesota western metro. We pride ourselves on customer service, and we take the time to make sure that your wooden plaques, wooden frames, trophies, or signs turn out exactly as you had envisioned.
Whether you live in Dassel, Cokato, Winsted, or Watertown, we're looking forward to being your one-stop laser engraving shop.
Conveniently close
Located west of the Twin Cities on Minnesota Highway 7, our laser engraving shop is ready to serve Lester Prairie, MN and beyond. We often have clients from Litchfield, Delano, Arlington, Buffalo, Waconia, and everywhere in between.
Next time you're looking for a personalized gift idea for a birthday or other special occasion, give RiteWay Laser Engraving a call. From graduation plates to employee recognition awards, our quality can't be beat.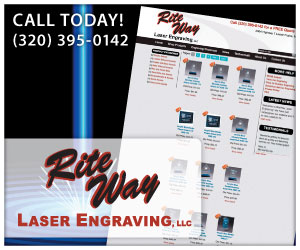 Made to last
We offer high-quality engraving for many materials, including marble, glass, onyx, pewter, acrylic, stainless steel, and coated metal, to name a few. It could be a wooden cross (for a baptism, first communion, or confirmation) or a decorative crystal paperweight; whatever you're looking for, we have laser engraving to suit your needs.
10 percent off!
Like what you've read so far?
Contact RiteWay Laser Engraving in Lester Prairie today at (320) 395-0142 or e-mail us at aboich@ritewaymech.com for details about our laser engraving services for plaques, awards, trophies, and countless other products. We're excited to hear from you - and, if you mention this web page, we'd be happy to give you 10 percent off your first order. We know you'll be 100 percent satisfied!